Updates from this year
Last year (2016)  and the start of 2017 has been a busy time for all the peregrine watchers and recorders. 2016 was a year of mixed fortunes: many nests producing young, some for the first time after many years of trying, though a number of our regular pairs failing tp produce at all. In addition we are monitoring and helping to rehabilitate young grounded peregrines.
Conservationists associated with People for peregrines are monitored over 100 nests in the region this year (126 nest sites and counting, 175 sites being checked), and we have actively prevented disturbance on several sites.
This imaugural meeting took place on 22nd March 2016 and was very succesful with 22 attendees. A big thank you to all those who came. Many useful topics and project ideas were discussed. Full details will be available shortly on the peregrine resources page. In addition sighting were made of the pairs at Birmingham B/T tower (mating!) and the pair at Birmingham University, the female filmed by David Gray:
Birmingham University Peregrine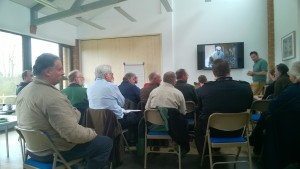 Our Friends in Leicestershire, have been very succesful in securing safe nesting boxes for peregrines in Leicester City Centre. See more about this story below:
Leicester Cathederal Peregrine Project
Leicester Cathederal Peregrines
Peregrine images for you to enjoy. All images credit and copyright, Nick Martin, www.martinimages.co.uk
New sites for 2016/17:
Pictures from the first of 3 newly discovered sites in the West Midlands with breeding peregrines. In this case, seen on 5th Januray 2017, the male is overwintering on the building. Remains of feral pigeons and redwings were discovered beneath.
In 2017, the year will start with training courses in Birmingham for consultants from the Chartered Institute of Ecology and Environmental Management on Peregrine Ecology and Conservation (see CIEEM web-site). More to follow:
Picture credits: Jacob Peterken

by Dr. S. Bodnar